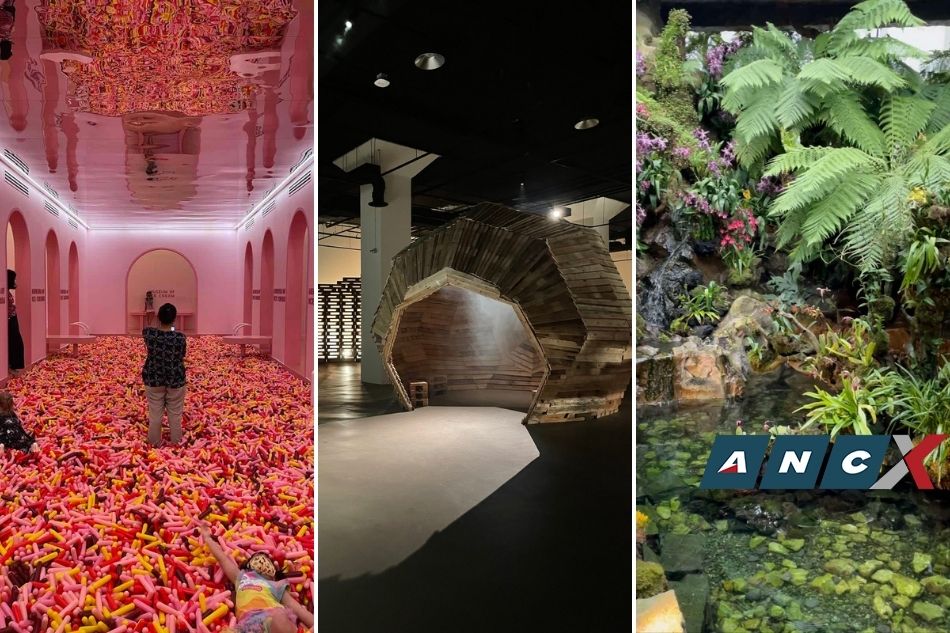 4 new Singapore attractions with immersive experiences
Since April, all fully vaccinated travelers have been allowed to enter Singapore without having to undergo quarantine. This includes "not fully immunized" children aged 12 and under. TravelTravelers simply need to take a Covid test before departure from their home country within 48 hours of their flight.
That's great news, especially for Filipinos who missed out on Lion City's myriad attractions: hawker center favorites, designer shopping, strolling Joo Chiat for its charming shops, nightlife in Club Street and Marina Bay Sands sightseeing.
It's been two long years, after all, and while a lot has stayed the same, there's also a lot that's happened in the past 24 months – new must-haves (Catriona Gray now has her own figure wax at Madame Tussauds), new hip restaurants (Eggslut in Scotts Square which opened in September has become a hip spot) and new experiences (The Ice Hotel Gallery in Snow City is literally the coolest place of the city today).
We wandered around SG for a few days and tried out some of the attractions that were launched before tourism reopened. Here is our list of recommendations: each stop offered a different emotion from the previous one, each a feast for the senses.
VR Gallery, Museum of Art Sciences
Your heart will kind of skip a beat for this one. And you will gasp. And you will most likely say "wow" at some point. But above all, you will be quietly impressed by the experience of witnessing the first flight of man to the moon and to Mars. You'll be in a glass elevator accelerating to the overhead view of a spaceship one second, and in the same room and dangerously close to the men who have been to space and back the next. And then you will fall very slowly to the lunar surface where the same men walked and made history.
Called Spacewalkers, this art science museum attraction is a stunning virtual reality experience "carefully molded using exclusive archival footage and recordings from NASA's Apollo missions." It consists of two moving visual artworks that premiered at the 2020 Venice Film Festival: "1st Step—From Earth to the Moon" and "2nd Step—From the Moon to Mars and Beyond." It's a wonderful ride. Every minute is breathtaking; the entire 45-minute journey is an exhilarating celebration of the inquisitive nature and fearlessness of man.
Museum Warning: Not recommended for people with "claustrophobia, history of seizures, epilepsy and/or sensitivity to flashing lights". Ongoing until April 17. Art Science Museum is at Marina Bay Sands. Open from 10 a.m. to 7 p.m. Buy your tickets online at https://www.marinabaysands.com/museum/exhibitions/spacewalkers.html
Sembcorp's cool house
It can be quite hot and humid in the City of the Lion (although the last two weeks have been quite pleasant and, dare we say, cool) and it is always easy to take refuge in one of its shopping centers, but here's a better idea: slip into a sprawling glass house that's always 16 degrees, with flowers everywhere you look. It's like being in an enchanted forest on top of the mountains, maybe a thousand or 2,000 meters above sea level.
Located inside the National Orchid Garden at Cluny Road, and within the Tropical Montane Orchidetum, The Sembcorp Cool House is an attempt to give visitors an experience of what it is like to be in the woods high up in the mountains . In this lush, created environment – there is a man-made stream when you look down – you can find rare orchids from all over Asia that are known to only thrive in very high forests.
It is said that there are a thousand species of orchids and hybrids inside the single cool house, living among begonias and carnivorous plants. It's a plantito fantasy come to life, a cute hangout setting, or just a great place to be when it's particularly hot outside.
Open daily from 8:30 a.m. to 7 p.m. (last sale of tickets and admission at 6 p.m.). The standard entry fee for non-Singaporeans is SGD 15. For more information, visit the Singapore Botanic Gardens online.
Ice Museum
We know what you're thinking. Places like this are just for kids, right? Well, not if you really like ice cream.
Welcome to the largest ice cream museum in the world. It's hard to stay in a bad mood at this pink sanctuary dedicated to a favorite cold treat from childhood to adulthood. All the staff are friendly – a number of them kababayans just so happy to see you (we met "Nana de Coco", not her real name, of course, just her museum alias) – each room promises two flavors of ice cream, and you're welcome to ask for seconds, or even third. Our favorites: Taro Milk Tea, Lychee Bandung and Pulut Hitam Poton, a vegan ice cream bar specially designed for the museum, inspired by a local specialty. It is made from black sticky rice, coconut milk, pandan, gula melaka and raw cane sugar. It's so delicious that it will have you thinking about the next visit.
Bring the kids (if you want), take lots of pictures (but don't take off your mask unless you're eating ice cream at the same time), spell out your dream on a vision wall (we spelled out the name of our next President, of course), play a game, dive into a pool of fake ice cream, and read the history of ice cream. Did you know it all started in 500 BCE when the Persians poured a grape flavored liquid on the snow? Sorbet you didn't.
Open Thursday to Sunday, 10 a.m. to 10 p.m. Tickets are SGD 38 for adults, free entry for children 2 and under. Buy your tickets online at https://www.museumoficecream.com/singapore
Singapore Art Museum
While its original space at Bras Basah Road remains wrapped like a psychedelic gift box and inaccessible to the public – the 160-year-old building is undergoing its second renovation and will be back in operation by 2026 – the Singapore Art Museum can now be visited in Tanjong Pagar Distribution Park. The new setting of the warehouse, in an enclosure close to a port, seems more in tune with the very contemporary and cutting-edge shows that are currently wowing visitors.
The first show, "Refuse", is a wildly imagined and wonderfully executed exploration of the connection between decaying mushrooms and musical creation (or composition?). Entering the exhibit is like stepping into an eerie, ethereal space where the music you hear sounds like womb murmurs but is actually derived from motors and sensors attached to mushrooms. Project of the Singaporean experimental group The Observers, this little indoor Coachella with different physical scenes and strange sounds is a mystifying ode to the depths of the imagination.
On the other side of the room is a show called "A machine that stimulates energy in the universe" by Thai filmmaker and visual artist Korakrit Arunanondchai. The cushions on the floor invite the visitor to watch the film projected on the wall entitled "Painting with history in a room full of people with funny names 3" (2015-16) which is part of the museum's collection, a funny montage and absurdity of images of Bangkok that are both moving and immobile. Meanwhile, it is as if the viewer is gazing among an audience of cyborgs decked out in a mosaic of denim and modern world debris.
"Refuse" runs until April 17 while "A Machine Boosting Energy Into The Universe" runs until May 3. The Singapore Art Museum is located at Tanjong Pagar Distripark. Visitors can simply enter during the opening hours of the museum, which is from 10 a.m. to 7 p.m. Visit https://www.singaporeartmuseum.sg/art-events
For more information on travel to Singapore, visit the Safe Travel page.