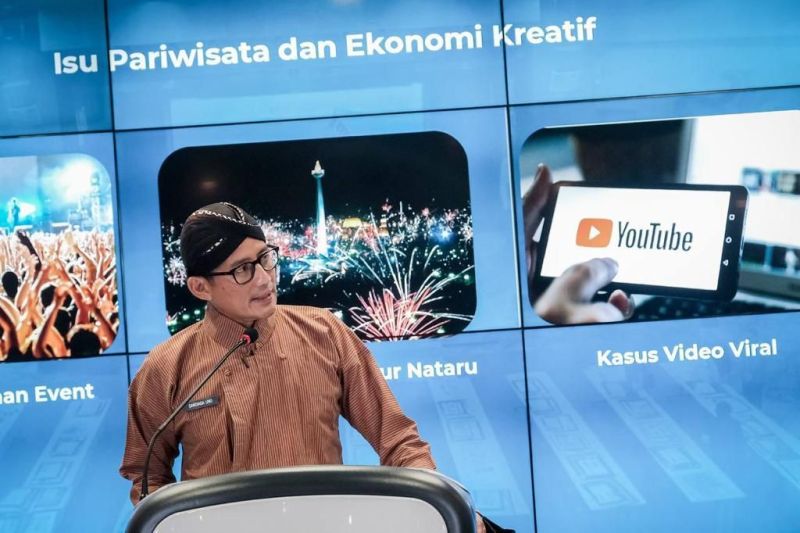 Tourist Attraction Managers Need to Prepare for Holiday Seasons
Jakarta (ANTARA) – Minister of Tourism and Creative Economy Sandiaga Uno has instructed officials of popular tourist attractions and creative economy centers to prepare to take advantage of the Christmas holiday opportunity 2022 and New Year 2023.
According to data from the Ministry of Transport, the domestic public mobility potential during the Christmas and New Year holidays is 22.4% of the total Indonesian population, or up to 60.6 million people.
"We call on (managers) of preferred tourist destinations and creative economy hubs to prepare well by continuing to innovate, adapt and collaborate as the previous crisis has been replaced by the potential extreme weather situation," he said. he noted during the Weekly Brief with Sandi. Uno event, according to an official statement here on Friday.
Related News: Bali airport artwork will leave an impression on G20 delegates: minister
According to Uno, public mobility is expected to reach 12.3%, or about 7.5 million people, in the regions of Jakarta, Bogor, Depok, Tangerang and Bekasi (Jabodetabek).
Tourist destinations Ancol, Ragunan and Taman Mini Indonesia Indah (TMII) in Jakarta are expected to receive an influx of tourists. Meanwhile, in Bogor, the Puncak region will receive several visitors, as it has always been a popular destination for tourists.
Related news: Expect MSMEs to offer hope amid looming recession: Minister
"Bali and five super priority destinations and tourist villages also need to be prepared to welcome tourists," he noted.
For foreign tourists, it is estimated that several travelers from the United States and Austria will take advantage of the Christmas and New Year holidays to visit Indonesia. Moreover, there are tourists from the five countries of Australia, Singapore, Malaysia, India and the United Kingdom that contribute the most tourists to Indonesia.
"We call on regional governments and tourism trade associations to support the Christmas and New Year period as a boost to recovery and to prepare tourist attractions and creative economy centers and supporting facilities," said- he points out.
Related news: Expect G20 to spark people's interest in electric vehicles: Minister Uno
Related news: Minister optimistic about tourism growth in fourth quarter of 2022